Baldus of Perugia, born in Perugia on October 2, 1327
The son of Franciscus de Ubaldis, a medical doctor and master at the University of Perugia.
Baldus began practicing law and teaching at Perugia with his old teacher Bartolus and was soon joined by his brother Angelus in 1351.
Teaching Career: Perugia (1347-1357), Pisa (1357-1358), Florence (1359-1364), Perugia (1365-1376), Padua (1376-1379), Perugia (1379-1390).
1390 until his death in 1400 Baldus taught in Pavia and was Giangaleazzo Visconti's court jurist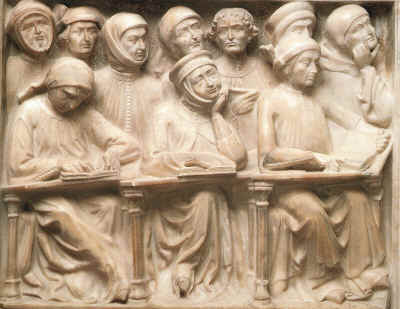 Detail from the tomb of Giovanni da Legnano (died 1383)