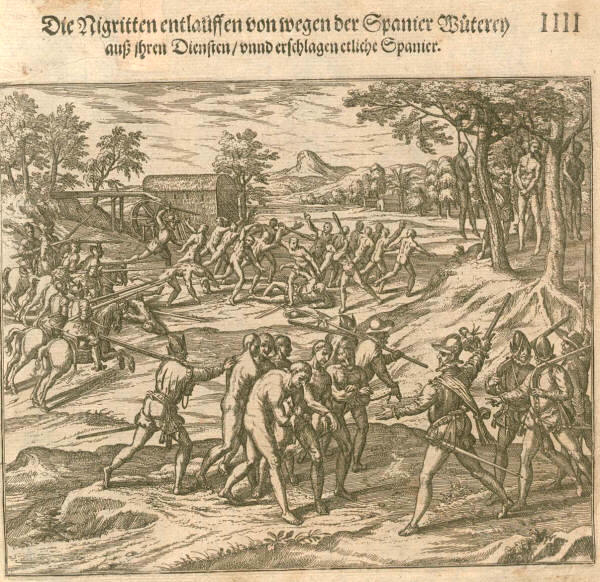 Africans try to escape because of Spanish atrocities on Christmas morning 1522; the Spanish capture them and the rebellion is suppressed.
Illustration after Joannes Stradanus. From Girolamo Benzoni's Americae...,Insignis & Admiranda Historia de reperta primum Occidentali India... Frankfurt: Johann Theodor De Bry, 1594-1619. Second German edition.

iego de
A
vendaño
(
D
idacus de
A
vendanno)
(Segovia, 1594 - 1688? --- 1698?), was a Spanish-Peruvian Jesuit, a theologian, jurist? and moral philosopher. He was the author of the monumental
Thesaurus Indicus
, a study of the legal and moral issues typical of life in the Spanish-American colonies. He was born in Segovia in 1594 and moved to South America at an early age. He was educated by Jesuits in South America and joined their order. He became professor of Theology and Rector of the Colegio Máximo de San Pablo de Lima, Peru and served as provincial of the Jesuits in Peru. Very little is known about his personal life. His books were published in Europe.
Works
Epithalamium Christi et Sacrae Sponsae (Lyon, 1653).
Amphitheatrum misericordiae (Lyon, 1656).
Expositio Psalmi LXVIII (Lyon, 1666).
Thesaurus Indicus

(Antwerp, 1668-1686)

.

Actuarium Indicum (Antwerp, 1675-1686).
Problemata theologica (Antwerp, 1678).
Cursus consummatus (Antwerp, 1686).