Only few dates are known about when Charlemagne ordered the building of the Palace Chapel. In 786-787 A.D. Pope Hadrian authorized Charlemagne to transport marble from Italy to Aachen. In 798, the

"

precious

"

ancient columns were erected in the church. The delivery of the relics in 799 / 800 assured the completion of the building.

Its

inauguration by Pope Leo III in 805, however, is a legend.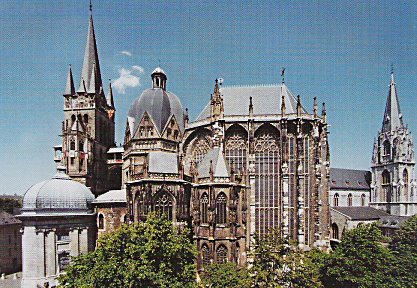 View of the church as it looks today. After Charlemagne, later additions to the church completely surrounded the Palace Chapel. This throne was used by Charlemagne and his successors