Gratian,

D.4 dictum after c.3: Ordinances

(

Leges) are instituted when they are promulgated; they are confirmed when they have been approved by the

mos

of those who observe them.

Just as indeed the several laws (

leges) today are abrogated by the mos of those who observe them (interlinear gloss: completely taken away: penitus ablate).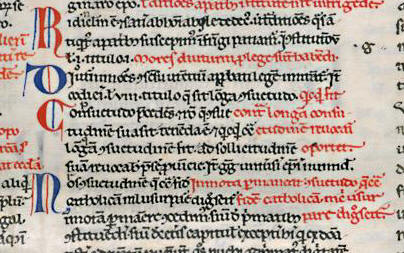 Florence, Biblioteca Laurenziana Santa Croce 1 sin. 1 fol. 6r
D.12 c.6 (Justinian's Institutes 1.1): Long standing usages (mos) approved by the consent (consensus) of those following them are like ordinances (lex) (Diuturni mores consensu utentium approbati legem inmitantur).