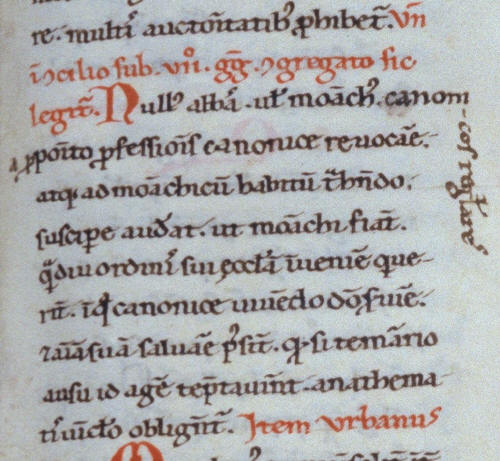 Sankt Gallen, Stiftsbibliothek 673, fol. 145
<Gratian> Many authorities prohibit that regular canons may transfer.
Whence in a council <of Autun 1077 A.D.?> convened under the Seventh Gregory it is stated:
No abbot or monk may dare receive someone to become a monk wearing the monastic habit and calling him back from the intention of a canonical profession as long as they can find churches of their order in which they live canonically and serving God and in which they can save their souls. If abbots and monks rashly dare to do this they will be condemned by the bond of anathema.
Landau, Libertas christiana 76-83
IN CON<cilio> EDUCENSI CONGREGATO SUB SEPTIMO GREGORIO
NULLUS ABBAS VEL MONACHUS canonici regulares ... ANATHEMATIS VINCULO OBLIGANTUR
Collectio IX librorum (Archivio S. Pietro C.118) fol. 23r-23v
CON<cilio> EDUENSE
NULLUS ABBAS VEL MONACHUS CANONICOS REGULARES ... ANATHEMATIS VINCULO OBLIGETUR
Second Version of the Collectio Caesaraugustana, Paris BN
EX CON<cilio> EDUCENSI SUB GREGORIO Papa SEPTIMO CONGREGATA

UT CANONICI REGULARES MONACHI NON FIANT ... ANATHEMATIS VINCULO OBLIGANTUR

Collectio canonum Anselms von Lucca, Version AŽ
EX CON<cilio> EDUENSI
<rubric> UT NULLUS ABBAS CANONICOS REGULARES A PROPOSITO SUO REVOCARE PRESUMAT
UT NULLUS ABBAS VEL MONACHUS CANONICOS ... ANATHEMATIS VINCULO OBLIGETUR
Collectio XII partium, Addition