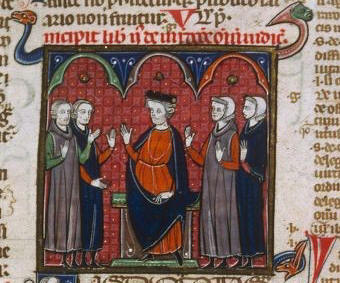 Cambridge, Mass. Harvard Houghton Library, Typ. 121, fol. 18r Justinian,

D

igest vetus 2.1

Charles M. Radding and Antonio Ciaralli. The Corpus iuris civilis in the Middle Ages: Manuscripts and Transmission from the Sixth Century to the Juristic Revival (Brill's Studies in Intellectual History 147. Leiden-Boston: Brill, 2007) Chapter 6.

Antonia Fiori, "La 'Collectio Britannica' e la riemersione del Digesto,"
Rivista internazionale di diritto comune 9 (1998) 81-121

Herman Lange, Römisches Recht im Mittelalter, 1: Die Glossatoren. München: 1997 and Herman Lange and Maximiliane Kriechbaum, Römisches Recht im Mittelalter, 2: Die Kommentatoren. München: 2007.
Digestum vetus Dig. 1.1-24.2
Biblioteca Apostolica Vaticana lat. 1406
Paris, Bibliothèque Nationale de France lat. 4450
Infortiatum Dig. 24.3-38.17
Digestum novum Dig. 39.1-50.17
Firenze, Biblioteca Laurenziana, Codex Florentinus, sine numero
Wolfgang Peter Müller, "The Recovery of Justinian's Digest in the Middle Ages," Bulletin of Medieval Canon Law 20 (1990) 1-29