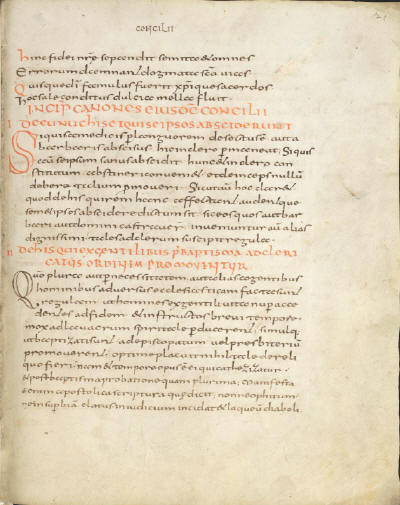 St. Gall, Stiftsbibliothek 671, p. 21
Click on photo for larger folio
Collectio Dionysiana
The most important and most influential early collection was the Collectio Dionysiana ca. 500, compiled by Dionysius Exiguus. Dionysius translated the Greek canons from Nicaea, Constantinople, Sardica (Sofia), and Chalcedon into Latin.
Dionysius Exiguus compiled three collections of conciliar canons that included 165 canons from councils dating from Nicaea and Constantinople I (381 A.D.) and arranged the text chronologically. In the last collection, commissioned by Pope Hormisdas (514-523), Dionysius placed Greek and Latin versions of the texts in the book so that readers could compare them. He also compiled a collection of papal decretals that began with the decretal letter of Pope Siricius and ended with Pope Anastasius II (496-498) in chronological order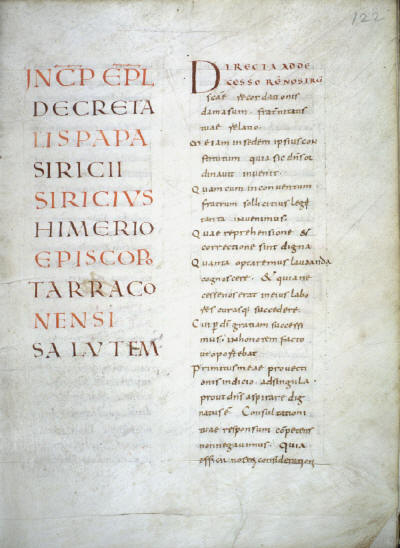 Köln, Dombibliothek 115, fol. 122r
Click on photo for larger folio
Collectio Dionysiana-Hadriana
Even more importantly Pope Hadrian I (772-795) sent an augmented copy of the Collectio Dionysiana to Charles the Great that is known as the Collectio Dionysiana-Hadriana. It can be seen in these links: (Köln, Dombibliothek 115-116 and St. Gall, Stiftsbibliothek 671). Although other collections of canonical texts were also used in the Carolingian period, the Dionysiana-Hadriana enjoyed enormous popularity in Northern Europe from the ninth to the eleventh century. One hundred manuscripts of the work have been found to date. With it the work of Dionysius Exiguus established the canons of the fourth-century Eastern Greek councils and papal decretals as the foundation of Western Latin canon law.
Collectio Dionysiana-Hadriana in St. Gall Stiftsbibliothek 671

For further information about the early collections of canon law see Short History of Canon Law