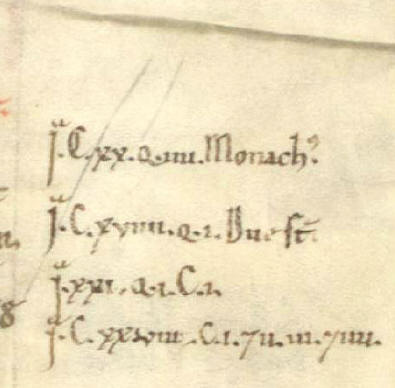 Köln, Erzbischöfliche Diözesan- und Dombibliothek 127, fol. 64r
Gratian I or Sg did not include D.71 c.7 in his collection. Many canonical collections contained Extraneo but not in this precise form. Consequently we do not know from which collection Gratian II got the chapter.
Gratian II did not take the chapter from: 1. Tripartita, Paris BN lat. 3858B 2. Collection in MS Berlin SB Savigny 3 3. 2. Version of Collectio Tarraconensis, Paris BN l 4. Collectio IV librorum, Canterbury CL B.7 5. Collectio III librorum 6. Collectio IX librorum (Archivio S. Pietro C.118) 7. SV03.088.05?
EXTRANEUM CLERICUM ET LECTOREM EXTRA SUAM ... PENITUS LICEAT MINISTRARE
Linda Fowler-Magerl, Kanones, Version 1.2 (2001)
Gratian I did not include C.7 q.1 c.24 in his collection